NEW The AI DAW — Hit'n'Mix Launch RipX DAW & RipX DAW PRO 
Riley Knapp, platinum selling songwriter explains "The output of most AI Music Generators is robotic, chaotic and usually unlistenable. This is due to the fact AI 'samples' contain elements that are out of key, out of time and don't follow any musical structure. With RipX DAW, I am able to separate each sound within a generation, re-pitch and fine tune any elements, create a musical structure out of it and replace any subpar sounds with high quality sounds. RipX DAW's unique 'Edit-in-Mix' workflow makes it possible to humanize AI Music."
Listen to clips of Riley's work with RipX DAW and AI: https://soundcloud.com/ripx-daw/sets/ripx-daw-ai-examples/s-65NCtuHnvtF
The first and only DAW to treat audio and MIDI 'as one', RipX DAW replaces existing RipX DeepRemix, DeepCreate and DeepAudio modules with a streamlined offering of one standard and one Pro version. Built around the revolutionary Rip Audio format, it makes child's play of in-the-mix editing in ways that are not possible with waveform and MIDI based software. RipX DAW is tailor-made for every kind of music and audio creative, with special emphasis on the new generation of AI-inspired content creators.
Martin DAW, Hit'n'Mix CEO and the creator of RipX DAW comments:
"The excitement, fun and creativity that RipX users express to us each day has incentivised our team into creating something truly unique, powerful and accessible. We listened, and to enable even more creative time within the RipX environment, we seamlessly added tailored recording tools, workflow improvements and effects. As we carefully worked-in these enhancements, it became clear that we were on a direct course to the creation of a DAW in its own right. Not just any DAW, but one built from the ground up with ease-of-use and unprecedented control over music and audio at its very heart. Moreover, AI music generation has become big news over the past few months, and the Rip Audio format is ultimately placed to make this technology truly useful, and importantly ensure that human creativity is not lost, with peerless in-the-mix editing and audio extraction. Now you can create music from start to finish and even transform AI's musical imaginings into your own, all within RipX DAW and RipX DAW PRO."
RipX DAW includes the world's leading audio separation and in-the-mix note & chord editor technology. It's possible to break down and customize output from AI Music Generators with integrated access to a leading service. Additionally, record using a MIDI/MPE/laptop keyboard, or microphone/audio input, laying down sounds extracted from existing audio, or the built-in library. A wide range of single-click automated effects are included, allowing for plenty of experimentation.
RipX DAW PRO includes all of the features and functionality of the RipX DAW, then adds advanced stem and AI Music Generator clean-up, Audioshop sound manipulation tools, and pro DAW features to the workflow. Tweak sounds at the harmonic level, draw in guitar slides and vocal embellishments, and edit noise and unpitched sound without affecting the melody. Python scripting is included for complete programmatic control over audio.
To celebrate this news, Hit'n'Mix is offering 30% off RipX DAW, RipX DAW PRO and upgrades in their Black Friday Sale, which runs from 7 November - 7 December 2023.
What's more, free upgrades are available for RipX DeepRemix & DeepCreate owners to RipX DAW, and similarly, RipX DeepAudio to RipX DAW PRO.
RipX DAW $99/£99/€114
RipX DAW PRO $198/£198/€228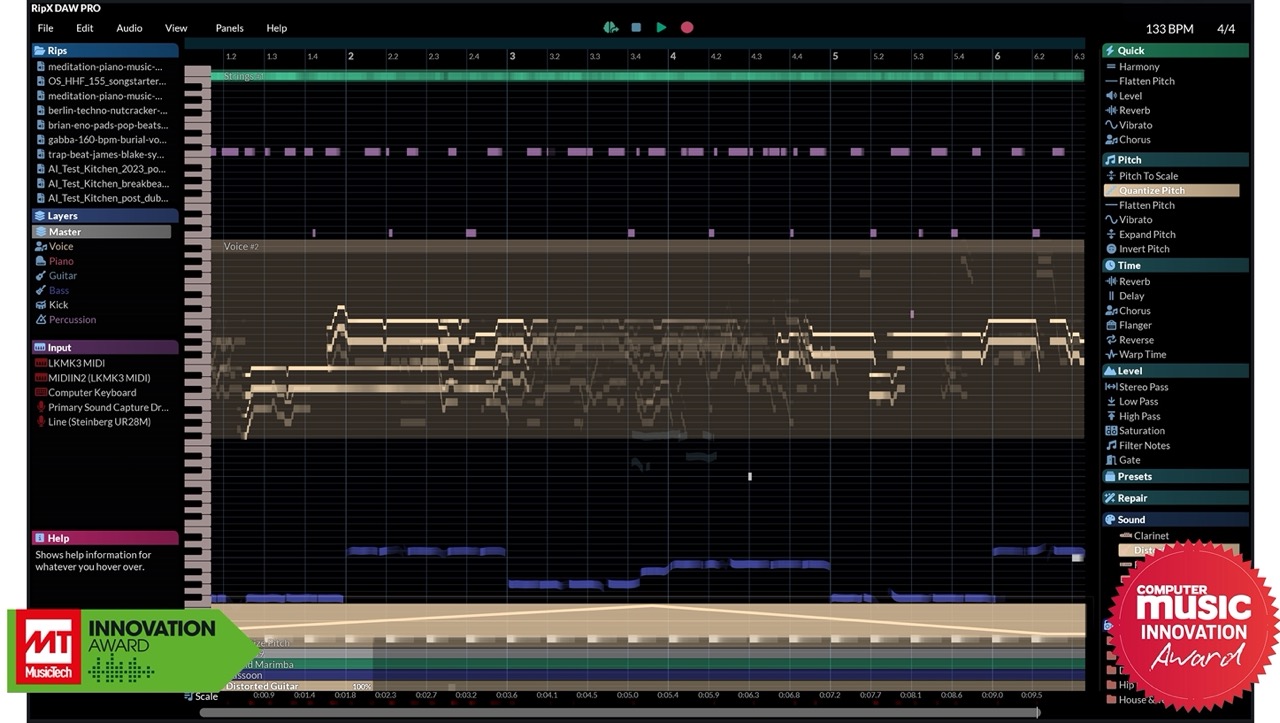 RipX DAW & RipX DAW PRO are the only DAWs on the market that offer:
MIDI and audio 'as one' - no separate audio and MIDI tracks. Once MIDI and audio are inside RipX they are in Rip Audio format, and all features including editing and effects can be applied, no matter what.
6+ tracks of stem/instrument separation each of which can be independently muted, soloed, extracted and adjusted.
Further separation of stems/instruments into fully editable notes, chords and unpitched sounds.
The ability to customize, clean-up, transform and rearrange ideas directly from AI Music Generators.
Sound blending and substitution - blend and replace instruments and sounds with different instruments and sounds to adapt and be creative with performances.
The world's first audio separation sampler – rip your song into layers, add sounds from them to the Sounds Panel, then re-perform with a controller into a new or existing layer.
Advanced remixing capabilities even within 'fixed' stereo audio files.
Note and chord recognition to help musicians learn parts to songs.
A user-friendly, note-based interface - for transparent pitch/time-based editing and effects, with instant visual feedback.
Colour-coded notes and Layers used throughout to enable a clearer understanding of the music and applied effects.
The ability to apply/randomize scales and keys of newly separated stems, all in one app.
One-click effects, sound replacement and Combo Effects - quick and easy to set-up, tweak and combine, versus stock DAW plugins and chained plugins.
Ripping of favorite VST3 instruments - to re-perform and manipulate in any way imaginable.
Unprecedented control over notes, harmonics, noise and unpitched sound using Audioshop tools, the Harmonic Editor, Repair Panel and RipScript Python scripting. 
The ability to import your own background images to set the mood - supported by very few DAWs.
Recently Added Features Include:
Computer Keyboard recording input
Step Time entry
Quick Panel for commonly used and favourite effects, plus Search box for effects and sounds
Chorus, Saturation and Flanger effects with improved Compression
Integrated AI Music Generator access
Improved sound replacement
Click layer for audible beat alignment
Highly functional note/percussion groups with snap-to original beat markers
One click effect and sound application
Automatic panel expanding to show currently applied effects
Automation lane selectors to show what effects and sounds are applied where and to what layers
Significantly faster ripping
PRO version: EQ Panel and DeEsser
Many recording and playback improvements, including automatic grouping of new recordings for easy editing and fast application of effects with automation
Sound, Loop and Rip Layer auditioning plus click and drag insertion
A multitude of user interface and editing tweaks for a more intuitive and smoother experience
What Top Professionals are Saying about RipX DAW
"Using the new RipX DAW, I've been able to transform what would have been unlistenable & robotic sounding AI generations into beautiful, human sounding musical pieces."
Riley Knapp - Platinum selling songwriter - Julia Michaels, Niall Horan
"I am having a lot of fun with RipX… I love it!"
Fatboy Slim - Grammy, MTV & Ivor Novello Award-Winning Artist, Music Producer, Remixer & DJ
Trials, Downloads and Purchasing
A 21-day free trial for RipX DAW PRO can be downloaded from https://hitnmix.com/download_ripx/.
Full licenses can be purchased from Hit'n'Mix's resellers or on-line via https://hitnmix.com/buy-ripx/.
System Requirements
macOS 10.12+ (2011 & later models, including M1/M2) / Windows 7/8/10/11 (64-bit)
Minimum: 2 Core 2.5GHz CPU, 8 GB RAM, 20 GB Free Disc Space
Recommended: 4+ Core CPU / Apple Silicon M1/M2, 16+ GB RAM, 20 GB Free Disc Space
For Much Faster Ripping Speeds on Windows 10/11: NVIDIA GeForce 1070/1080/1080Ti/2070/2080/2080Ti/3070/3080/3090/40XX with 16 GB RAM and NVIDIA CUDA Toolkit 11.0 installed (free download)
NOTE: Product pricing, features, specifications, system requirements, and availability are subject to change without notice.
For more information on Hit'n'Mix's RipX, RipX DAW and RipX DAW PRO visit: hitnmix.com