Jared James Nichols "Blues Power" Les Paul Custom Available Worldwide via Epiphone
For 150 years, Epiphone has been a leading innovator in instrument design. By leveraging its iconic past and leaning into the future, Epiphone has set the stage for the next era of sound for present and future generations. Epiphone is proud to announce the new Jared James Nichols "Blues Power" Les Paul Custom, available worldwide now via www.epiphone.com.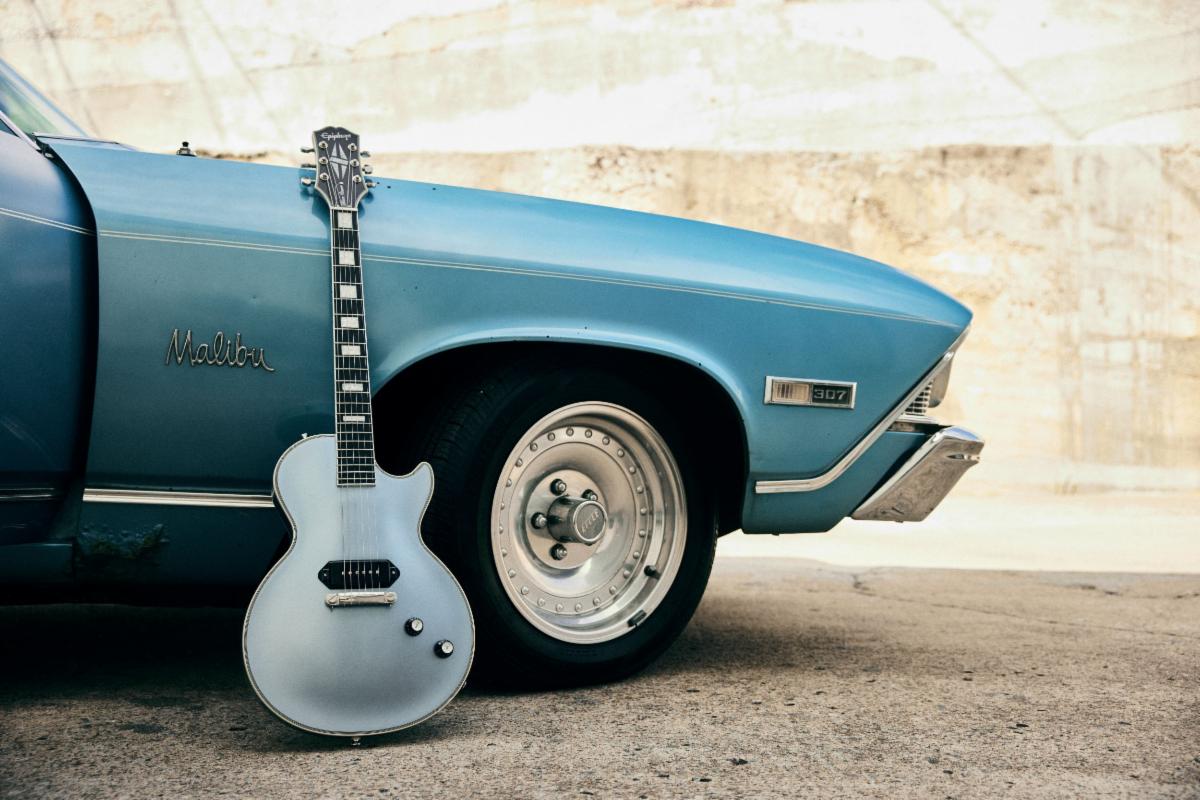 The Jared James Nichols "Blues Power" Les Paul Custom is the third signature model from the blues-rock powerhouse and Gibson Brand Ambassador who hails from Les Paul's hometown of Waukesha, Wisconsin. The Jared James Nichols "Blues Power" Les Paul Custom features classic Les Paul™ Custom styling and cosmetic appointments, in a stunning Aged Pelham Blue finish and pairs with the brushed nickel hardware, including Grover Locking Rotomatic tuners and a wraparound Lightning Bar bridge for rock-solid tuning stability. A single Seymour Duncan® Jared James Nichols Signature JJN P90 Silencer™ in the bridge position ensures righteous tone and hum-free performance, and the included EpiLite™ soft guitar case helps keep this standout guitar safe and secure.
In celebration of the release of his new Epiphone Les Paul "Blues Power" guitar, Jared James Nichols will perform a special free show and release party at Sweetwater Music in Ft. Wayne, IN on November 14. Additional in-store shows include Chicago Music Exchange in Chicago, IL on November 15, Cream City Music in Brookfield, WI on November 16, Dave's Guitar in Madison, WI on November 20, and Moore Guitars in Evansville, IN on Black Friday - November 24. Southern Rock artist Cage Willis will join Jared for the tour.
"Blues Power is my third signature Epiphone, and it has completely raised the bar," says Jared James Nichols. "Besides being a visually stunning instrument, the tone and playability are next level. This guitar is an inspiration. I cannot wait to unleash Blues Power on the world."
Jared James Nichols is currently in the midst of a fall tour in support of his latest self-titled studio album, Jared James Nichols available via Black Hill Records HERE. The new album was recorded live at Blackbird Studios in Nashville with nothing more than a Gibson Les Paul slung over Jared's shoulder, a warm amp turned all the way up, and a hot microphone on and ready. Jared churns out the kind of rock that rips, roars, and rolls without filter or apology. Standing at a staggering 6 foot 5 inches tall, Jared delivers a one-two punch of gritty vocals straight from the gut and incendiary fret fireworks. The album, produced engineered and mixed by Eddie Spear (Zach Bryan, Slash, Rival Sons), marks the third full-length offering from the Nashville-based multi-talent and the truest representation of his authentic rock and blues-inspired sound.
Last week, Jared released a cover of "Man in the Box" by Alice In Chains, listen to the song HERE and for the latest information and tour dates for Jared James Nichols, visit:jaredjamesnichols.com