Guitars for Veterans (G4V) take Vintage Viator guitar 1,500 miles, on an 8 day Banger Rally leaving Dover, UK on 25th September arriving in Gibraltar on 1st October 2023.
Specifically organised to bring together and raise funds for charities from all areas of the armed forces, this epic 8-day, 1,500 mile Veteran Banger Rally leaves Dover, UK on 25th September arriving in Gibraltar on 1st October 2023.
Far from gleaming expensive supercars, rules state that whilst support teams are allowed to ensure the cars are roadworthy to handle the 1,500 mile trek, each vehicle must cost less than £1,000.
"We chose our converted 850cc Reliant Robin, called Thunderball, installed with its own PA system, for its lightweight construction and fuel economy, and we were shaken and stirred when our race number came up as 007", says G4V Chairman Tim Sturges.
Forming in 2018 and based in Wales, UK, G4V is a non-profitable organisation providing relief through the healing power of music, to struggling UK Armed Forces Veterans living in Wales who suffer from PTSD. Now in its 5th year, members of any age, rank or nationality are allowed to join, as long as they have served just one day in the military, anywhere in the world.
Tim continues "Veterans shouldn't have to face the challenges of PTSD in silence or alone. We all know that whilst music itself is an international language, it's also a healer and is therapeutic, especially when playing an instrument.
JHS who distribute Vintage® Guitars worldwide, have been behind the G4V organisation from day one, supplying many acoustic guitars to help our veterans with music therapy, we are sincerely grateful for their ongoing support.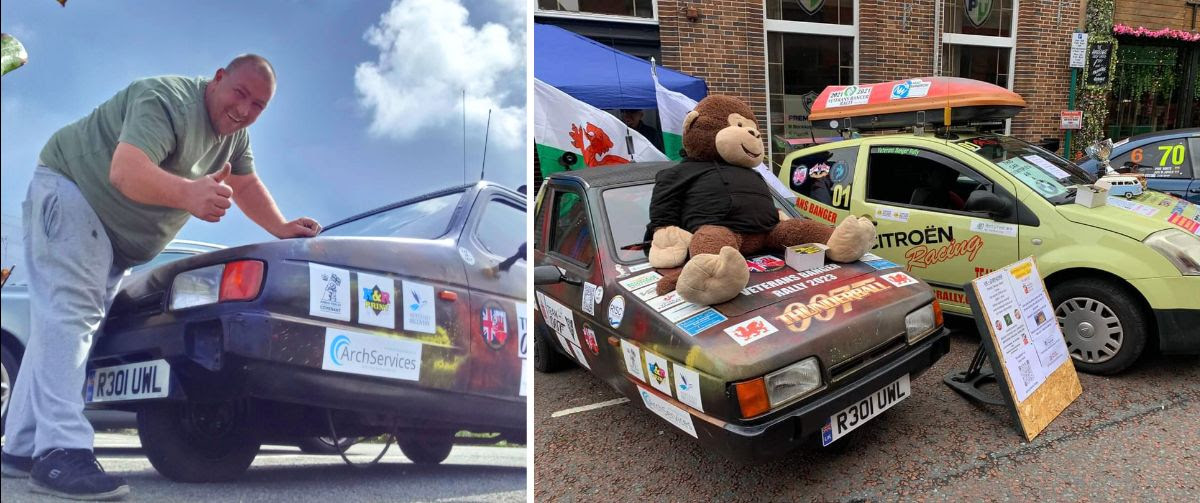 It will be a challenge with my brother Paul riding shot gun, and the Reliant now over 30 years old with a top speed of 70mph if we are lucky. We are not expecting to be first to arrive at the Naval base in Gibraltar, but with just 3 wheels, we have a 25% less chance of getting a puncture!
Space is limited, so the lightweight, compact Viator, which is Latin for 'traveller', is ideal and whilst JHS assure me it's built to handle high temperatures and life on the road, I'm sure it will be a source of entertainment along the way.
It goes without saying that, on behalf of G4V, we thank everyone involved with the rally and who have supported us and continue to do so with their generous donations. We'll come home with a lot of memories, whilst raising needed funds for our worthy charity"
Guitars For Vets Wales Facebook