A: Steve Vai - EVO Ibanez Jem JEM7VWH
Evo is the name Steve Vai gave to his primary stage and recording guitar, an Ibanez JEM7VWH. It was designed by Vai and Ibanez back in 1987.
The guitar was signed on the back twice by Les Paul. The first time was at Les Paul's birthday in 1995 and then again in 1998 after the first wore out. After the second signing, the signature was covered in plastic.
Steve Vai said this about Evo:
"I wanted to design a Jem that had a classic look to it. We experimented with some color combinations and I decided on a white guitar with gold hardware. Ibanez had sent me 4 of them when they were available. They were production models with absolutely no modifications. I couldn't even tell them apart. I started to play them all to get a feel for the one I wanted to make my main ax. 

Guitars are like snowflakes in that it seems like there are no two that are exactly alike. Each of those 4 guitars had a slightly different feel and sound. None were better than the other just a little different. 

At the same time, I was also working with DiMarzio designing a new pickup. There were four that we experimented with and each was named after a Harley Davidson engine style. They were the Flathead, Knucklehead, Panhead and Evolution. The one I liked the most was the Evolution, so DiMarzio put them into production and they are still available. 

The reason I liked the Evolution pickup was that it had a hot output, smooth yet cutting top end and tight bottom end. I had them put in one of the new white Jems and to tell the guitars apart I had to write something on them. That's how Evo got her name. Another one at the time was Flo. The way I got her name will remain a secret for a while.

There was something about Evo that I responded to. Even though she was technically exactly like every other production model guitar, there was something about her touch and sound that moved me. To this day, whenever I see her, my heart goes pitter-patter. Regardless of what is going on in my life, highs or lows, Evo is always a tender sanctuary. The feeling I get when I see her or approach her is akin to a warm home where you feel safe and secure, maybe even around the holiday season - you get the picture.
I started playing her before the Sex And Religion recordings and she has been my main ax since. The only time I use another guitar is if I'm looking for a sound that Evo can't deliver. Flo received a Fernandez sustainer and these days I have been using her more often for two reasons: I have been using the sustainer, and poor Evo is coming to pieces. Read the descriptions and look at the pictures! I did not want to put a sustainer in Evo because it really changes the sound. 

I have several backups for Evo and Flo that I use and take on tour. The original Evo II was given to Charlie Bolis. He is a cool guy that is one of my studio techs. 

Although Evo is just made out of wire and wood, I'm afraid of how much emotional investment I have in her. I think when you play an instrument long enough it becomes an extension of yourself in ways that run deeper than anyone may understand but you. It moulds and shapes to your body and style or you mould and shape to it. It is the tool an artist uses to express his or her deepest emotional expressions and secrets. For me, Evo has been the voice of my heart and has seen the depth of my most depressed emotional frames of mind to my most euphoric moments of joy and divine love, and she usually gets the brunt of it all. I have cried, screamed, prayed and bled through that instrument, and like I said, although she is only wire and wood, there is an emotional investment in her. I'm afraid at how much I love her but I know that she is only on loan to me for a short time and will one day be dust. But for now, there's still quite a bit we have to say together."
B. James Hetfield - Gibson 1973 Les Paul Custom "Iron Cross"
James Hetfield's 'Iron Cross' guitar, also refered to as 'Uncle Milty' has been the Metallica frontman's main guitar since the release of 'Death Magnetic'
It's a Gibson 1973 Les Paul Custom but somehow provided the inspiration for the ESP James Hetfield signature 'Iron Cross' guitar. Despite being ESP endorsers, Hetfield and Kirk Hammett have always been Gibson players, having used Flying V's, Explorers and in more recent years and whole host of wonderful looking Les Pauls.
C. Jack White - 1964 JB Hutto Montgomery Ward Airline Guitar
Airline Guitars were a brand of electric and acoustic guitars made in the United States from 1958-68. The angular red Airline model played by Jack White is commonly referred to as the "JB Hutto" model, after the bluesman and slide guitar artist J. B. Hutto. Hutto was the first most visible guitarist to regularly use the guitar in live performances and recordings, and is pictured with the guitar on hisSlidwinder and Stompin' at Mother Blues albums.
Jack White actually owns two of these Airline Res-o-glas guitars. An all original one which was given to him later in his career, and his first one, which had a broken neck pickup. This was the one he ended up taking the knobs and neck pickup off.
Jack White speaks about his main guitar:
"I got my first one from Jack Oblivian. Jack Yarber is his name, and he's in a band called the Oblivians, from Memphis. He was playing in Detroit, and I went backstage. He said, "Hey, look at this guitar that I got." And he opened the case, and I was like, "Oh, man! That's amazing! That's......my color!" And it's plastic. I love it so much!" And he said, "It's for sale. I wanna get an Airline with three pickups." I had, like, 200 bucks or something. [laughs] Can't get 'em for 200 bucks anymore.

Playing that guitar makes me feel like I have to take something that's broken and make it work. It's hollow, it's made of plastic, and it feels like it's going to fall apart. The front pickup is broken, but the treble pickup has an amazing bite. I've never had it refretted or anything. It's pretty much the way I found it, except for new tuners." 

It's work to play it, but I like that. I had a Silvertone guitar that never stayed in tune, but when it went out of tune I would just work with it. If I wanted to play it safe I'd go out and get a brand new Stratocaster or something like that. But I don't like to play it safe; I like it when things are get messed up. It's like when things get messed up onstage: it forces me to figure something out now, because no one else can save me. With a guitar like the Airline, my mind is always working. I'm not just "phoning it in." 

For guitars, you just have to go to junk shops. You won't be able to find something like the Airline at a pawn shop very often. I don't think you should buy brand new instruments because they haven't proven themselves. You can buy an old guitar and it's already got soul inside of it; it's gone through a battle. A new guitar - yeah, it stays in tune, it's perfect and it will never crap out on you or anything. But it doesn't have any soul to it; it's just another piece of plastic coming out of a factory. I've never been able to relate to that." 
D. Joe Strummer - 1966 Fender Telecaster
Joe Strummer was playing with the 101ers when he bought his 1966 Fender Telecaster in 1975 for £120. After joining the Clash, the guitar's body and pickguard were refinished in grey auto primer and then painted black. By 1979, the word NOISE was stenciled on the upper part of the body, a rasta flag sticker was placed at the horn of the pickguard, and an "Ignore Alien Orders" sticker was placed above the bridge. By the release of Give 'Em Enough Rope, the guitar was fitted with a bridge with individual saddles and the original Kluson tuners were replaced with later model tuners and a large question mark was spraypainted on its back. The guitar would remain in this configuration throughout his career with the addition of different stickers on its body. The guitar's black paint became worn down due to Strummer's playing and on many places the original sunburst finish and bare wood shines through, except for the square where Strummer taped his setlists.
Strummer was naturally left-handed, but learned to play guitar right-handed. He had attributed this as a drawback and claimed it caused him to be underdeveloped as a guitarist, although his style of playing was unique.
Fender guitars have since released a Joe Strummer Signature Telecaster Model designed in cooperation with the Strummer estate.
E. Albert King - Custom Flying V
ZZ Top's Billy Gibbons had this guitar made for the late Albert King as a surprise present for the bluesman's 65 th birthday in 1988. It was crafted by Tom Holmes, a Nashville luthier who has made over 25 guitars for Gibbons, as well as many of Bo Diddley's odd shaped instruments. "It's built like a Les Paul," says Holmes. "It's an archtop with a maple top and a mohogany body and neck. I had (Cheap Trick guitarist) Rick Nielsens' Flying V here at the time, which I used as a model to sketch the body and check the headstock and neck joint, so its body shape is exactly like a Gibson Flying V's. 
King, who played Flying V's - all of them dubbed "LUCY" - throughout his lengthy and influential career, immediately made Holmes's creation his number one guitar. In December 1992, just eight days before the great guitarist died of a heart attack, he presented it to its present owner, his adopted "cousin" Lee King.
Lee and his brother, Sam, both former members of Albert's band, went to see King play at a Los Angeles club. It was destined to be his final performance. 
"We were hanging around in the dressing room when Albert came off stage," Lee King recalls. He told me he wasn't feeling well and said he might have to go to the hospital to have some bypass work done. Then he gave me the guitar and said, "Here, take  this thing and play it." I was shocked. I grabbed him and hugged him but he kind of turned away because he wasn't the hugging type. Then they called him out to do an encore, and he took the guitar back and told me and Sam to come with him. We stood back in the wings and then he motioned for us to come out. He gave me the guitar again, infront of everyone. 
"Again I was shocked. I didn't know how to thank him enough, but he told me that he just wanted me to carry on the blues. And that's what I'm doing." 
F. Woody Guthrie - 1945 Gibson Southern Jumbo
Not much is known about many of Woody Guthrie's guitars since Woody was fairly casual about property and his guitars. However as well as his black L-00 we do know that after Gibson introduced the J-45 dreadnought style guitars in 1942 in order to compete with the Martin D acoustics, Woody purchased the Southern Jumbo model.
Gibson introduced the Southern Jumbo in 1942 which was essentially a J-45 with better trim and trapezoid mother-of-pearl replacing the dots on the fretboard.  While on leave from the Merchant Marine in December 1943, Woody purchased his Gibson Southern Jumbo in New York City.
He immediately decorated it with his trademark "This Machine Kills Fascists" sticker and from then on (until he began playing Martin acoustics) became his main guitar.
When Woody and Cisco Houston showed up at the recording studio in 1944 for Stinson Records, they both had Gibson Southern Jumbos. These recording sessions produced by Moe Asch and Herbert Harris and form the largest body of Woody Guthrie recordings.
Gibson guitars have since released a Woody Guthrie signature Southern Jumbo after working with Woody's son Arlo Guthrie
"The Woody Guthrie SJ acoustic guitar (is) a painstaking and faithful recreation of Woody's beloved 1945 Southern Jumbo. The idea was conceived in 2002 when his son Arlo-a folk legend in his own right-visited the builders at Gibson Acoustic in Montana. That visit resulted in the eventual replication of his favorite guitar right down to an aged-like vintage replica finish." (Gibson Guitar)
"His J-45 was borrowed from somebody," said Steve Earle the guitar player, singer songwriter, and vintage guitar collector . "He was hard on guitars, and most of them he did not pay for. The famous Southern Jumbo, I don't know about. I think the Southern Jumbo might actually be one he purchased, because it's the guitar that he's playing in the pictures and on his radio show. He was an organizer, but had a radio show in L.A., so he might have bought that one."  Steve Earle, Vintage Guitars
G. Tom Morello - "Arm The Homeless" Custom Built Guitar
Morello's most famous guitar, and his main guitar for standard tuning since 1986 is his "Arm The Homeless" Mongrel Custom.
The original guitar was made by Performance Guitar USA custom guitar builders for Morello to his exact specifications although Tom was less than happy with the results.
Tom says this about his guitar:
"The origin of the guitar dates back to 1986, pre-Lock Up. I was bumping around between some crummy Hollywood jobs, making $13,000 a year - no goldmine, but it did provide for some income, and it allowed me to save up and get a guitar.
"I went to this place in Hollywood that builds guitars. I'm no luthier, I didn't know anything about woods and what have you - you go to this place, check off all these boxes, and they build it for you. They made me the shittiest guitar in the world, but it's what would ultimately become Arm The Homeless.
"Everything about it was bad: it looked bad, it sounded bad, it was grotesquely overpriced, and over the course of the next two years, I changed literally everything about it except for the piece of wood. I got the guitar and hoped I would sound like I was playing Mr. Crowley on it, but it was pretty bad. I didn't know what to do - I had spent all of my money.
"Over time, I swapped necks on it maybe four times; pickups came and went maybe a dozen times; the whammy bar - I tried every different version of Kahler and Floyd Rose; all of the internal electronics were gutted, just me trying to get it right. I'm not much of a builder, so every time I got an idea I brought it to some new guitar shop and had it worked on.
"Finally, I found a graphite neck in a bin at a place called Nadine's Music, and I put that on. It's not a Kramer neck, but it's got the Kramer end to it - it's a knock-off. Then I put some EMG pickups in it, and the whammy bar was changed to an Ibanez Edge.
"At this point, I gave up and said, 'OK, it's never going to sound like what I hear in my head, so I'm going to stop worrying and fucking around, and I'm just going to play music.' Just to make it clear: I wasn't happy with where the guitar was at, but I settled.
When I made the decision to stop searching for a sound that just didn't exist in that guitar, and I just started creating, I learned to take the sounds the guitar had and found ways to make music that I liked with them.
"The bounce that's in my contribution to the riffs of Rage Against The Machine have a lot to do with that front pickup. I never really liked that sound; in fact I was quite disappointed with it, because it has a very single-coil sound. But that is the sound - that front pickup.
Tom speaking about the Hippos and the slogan:
"They're literally the only thing I can draw, and I can only draw them facing the one way. I drew them on and then painted them. As for my other change to the look of the guitar, this was in the early days of Rage Against The Machine. We were set to play at the Whiskey, and just before going over to soundcheck I scrawled 'Arm The Homeless' on the guitar. I liked the juxtaposition of that kind of provocative and militant situationist slogan with those four smiling hippopotamuses all facing in one direction.
"Then I started stringing the guitar the opposite way, with the balls coming out of the top so they can wave around. Actually, I did that in my high school band. I remember one of the guys in school - and a far superior musician - kind of looked down his nose at my little band. One day he said to me, 'Dude, cut your strings. You do not dare have floppy strings like that unless you're in the baddest band in town.' Well, when I was in Rage Against The Machine, I was in the baddest band in town, so I let my strings fly!
That guitar and I have spent tens of thousands of hours together, and I've grown very happy with it through the years. For somebody who isn't particularly sentimental about instruments and all that stuff, I admit that I've become very sentimental about that guitar. I was playing it today, as a matter a fact.
"I had an exact replica of it made up as a back-up, and frankly, it's a sturdier version - the sound is a little bit clearer, it's a little bit heavier - but the one that I trust is Arm The Homeless. I don't really look at a guitar as something that does slave labor; it's more of a colleague. It listens to me, and I listen to it. It's that combination together that makes the music that we make."
H. Bo Diddley - Gretsch G6138
Bo Diddley's trademark instrument was the rectangular-bodied Gretsch nicknamed "The Twang Machine" (referred to as "cigar-box shaped" by music promoter Dick Clark). Although the guitar in the picture is a Gretsch G6138, he had other similar-shaped guitars custom-made for him by other manufacturers.
The original version of the "The Twang Machine" was fashioned by Bo himself and Gretsch around 1958. In a 2005 interview on JJJ radio in Australia, Bo implied that the design sprang from an embarrassing moment. During an early gig, while jumping around on stage with a Gibson L5 guitar, he landed awkwardly hurting his groin. He then went about designing a smaller, less restrictive guitar that allowed him to keep jumping around on stage while still playing his guitar.
I. Tony Iommi Jaydee SG Custom 'Old Boy'
Tony Iommi's Jaydee SG Custom, also known as "No.1" and "The Old Boy" is Tony's main electric guitar, both live and in the studio.
The guitar was built in Birmingham, England by John Diggins, now Jaydee Custom Guitars. The exact date of its manufacture was not recorded but it is thought to be between 1975 and 1978. The guitar was first used on the 'Heaven and Hell' album and then used more and more frequently until it eventually took over from Tony's black John Birch S.G. as his main instrument.
It is instantly recognisable, with a vaguely maroon colouration and many patches of peeled paint exposing well-worn wood. The fretboard has 24 frets (plus a zero fret) and the trademark cross inlays. The pickups are of different types, the bridge is a Jaydee special and the neck is a John Birch style Magnum X in a John Birch casing, though made by John Diggins. The bridge is by Schaller and features fine tuners. The machine heads are Sperzels. 

There is a pickup selector switch and five control knobs on the front of the instrument, though only three are wired in. All of Tony's road guitars have the bridge pick up tone control disconnected. The fifth control was connected to a booster circuit, which has been removed. There is also an additional ¼" jack socket on the front of the guitar. This was originally a low impedance output for recording purposes, but has subsequently been disconnected.

The very 'distressed' look of the guitar is due to a couple of factors. It was built on John Diggins's kitchen table and had to be finished very quickly. As a result, the coats of paint and finish did not have the time to cure properly. At a later date the guitar was left in a car in an extremely hot part of the world and a lot of the finish bubbled up, giving the guitar the look that has become familiar to all Sabbath guitar fans.

On tour, this is Tony's main instrument for the 'one step down' D# tuning songs.
J. David Gilmour - 'The Black Strat'
Much has been written about David Gilmour's famous Black Strat, so much so, the guitar is now almost as legendary as the man himself. In fact we dedicated a whole issue to it last year. You can read our David Gilmour special here.
David bought the Black Strat at Manny's guitar store in New York, USA in May 1970 during Pink Floyd's North American tour. As fate would have it, David had just weeks earlier bough his first black Stratocaster at the same store but it was stolen along with the rest of Floyd's rig. Being forced to cancel the rest of the tour David once again visited Manny's on their way back home and the rest is pretty much history. The Black Strat made its debut performance at the Bath festival in June 1970.
The guitar went through many changes over the years with different necks, pickups and custom features but by the mid 80s David had replaced all of his guitars with Fender's new line of 1957 reissues. The Black Strat was donated to Hard Rock Café where it was on display until 1997. In 2005 Pink Floyd reunited for the last time at the Live 8 show in London's Hyde Park and the Black Strat made its triumphant return. It's been David's main guitar ever since.
K. Willie Nelson - 'Trigger' Martin N20 Classical Guitar
Willie Nelson bought his first Martin guitar, the N20 now known as 'Trigger' without even seeing it in 1969. The Baldwin company had originally given him an amp and classical electric guitar with a special three-cord stereo pickup which became his main guitar but it got badly damaged on tour. During a show in Helotes, Texas, Nelson left the guitar on the floor of the stage, that was later stepped on by a drunk man. Willie sent it to Shot Jackson in Nashville to see if it could be fixed.
Shot called Willie back and said, 'I can't fix it. It's broke too bad.' So Willie asked what else he had around? Shot said he had a Martin up on the shelf for $750.
Willie asked him if he could put that same Baldwin pickup in the Martin. Shot said he could and that's how Willie got it, unseen and right off the shelf.
When Willie got it he said he knew he had gotten something special. He just enjoyed sitting around in a room and playing it, writing on it, and most importantly, he just liked the sound of it.
The guitar is one of the most instantly recognizable instruments in existence. Willie's constant strumming with a guitar pick over the decades has worn a large sweeping hole into the guitar's body near the bridge and the top has been signed by over a hundred of Nelson's friends and associates, including those of Leon Russell, Roger Miller, Kris Kristofferson, Gene Autry, Johnny Cash, Waylon Jennings, lawyers, football coaches, and other friends and associates.
The first signature on the guitar was Leon Russell's, who asked Nelson initially to sign his guitar. When Nelson was about to sign it with a marker, Russell requested him to scratch it instead, explaining that the guitar would be more valuable in the future. Interested in the concept, Nelson requested Russell also to also sign his guitar.In 1991, during his process with the IRS, Nelson was worried that Trigger could be auctioned off, stating: "When Trigger goes, I'll quit". He asked his daughter, Lana, to take the guitar from the studio before any IRS agent got there, and bring it to him on Maui. Nelson then hid the guitar in his manager's house until his debt was paid in 1993.
In his book, The Tao of Willie: A Guide to Happiness in Your Heart, Nelson described the influence of the guitar in his style: "One of the secrets to my sound is almost beyond explanation. My battered old Martin guitar, Trigger, has the greatest tone I've ever heard from a guitar. If I picked up the finest guitar made this year and tried to play my solos exactly the way you heard them on the radio or even at last night's show, I'd always be a copy of myself and we'd all end up bored. But if I play an instrument that is now a part of me, and do it according to the way that feels right for me. I'll always be an original".
L. Buddy Guy - Polka Dot Fender Stratocaster
Buddy Guy's famous polka dot Stratocaster was custom made for him by Fender after he requested the design as a tribute to his late mother.
According to Buddy..."When I left Louisiana in 1957, I told my mother I was going to Chicago, gonna make a lot of money, and come back and buy her a polka dot Cadillac. Then later she had a stroke, so I never did get a chance to give her that car. Those polka dots on my guitar are for her."
Buddy's guitar tech Mark Messner says the guitarist currently owns seven polka-dot Strats, many of them equipped with the same built-in preamp found in the Eric Clapton signature Strat. Four of Buddy's polkadot Strats were made by the Fender Custom Shop, with pickups ranging from Lace sensors to Texas Specials. The remaining three are production- line Buddy Guy Signature models from Fender's manufacturing facility in Mexico. One of these instruments is equipped with '59 humbuckers and another has vintage noiseless pickups. Buddy often uses the latter guitar when he plays at his Legends club, which has significant buzz issues, according to Messner.
"You have to spend more time with that guitar than you do with your wife," say Buddy. "That's why I'm by myself now. My wife would tell me, 'You're putting too much time into the guitar and ain't givin' me none.' And I said: 'You go, I'm keepin' my guitar.'"
M. B.B.King 'Lucille' Gibson ES355
In the winter of 1949, King played at a dance hall in Twist, Arkansas. In order to heat the hall, a barrel half-filled with kerosene was lit, a fairly common practice at the time. During a performance, two men began to fight, knocking over the burning barrel and sending burning fuel across the floor. The hall burst into flames, which triggered an evacuation. Once outside, King realized that he had left his guitar inside the burning building. He entered the blaze to retrieve his beloved $30 Gibson guitar. Two people died in the fire. The next day, King learned that the two men were fighting over a woman named Lucille. King named that first guitar Lucille, as well as every one he owned since that near-fatal experience, as a reminder never again to do something as stupid as run into a burning building or fight over women.
"It seems that it loves to be petted and played with. There's also a certain way you hold it, the certain noises it makes, the way it excites me ... and Lucille don't want to play anything but the blues ... Lucille is real, when I play her it's almost like hearing words, and of course, naturally I hear cries." - B.B. King, liner notes from the album, Lucille, 1968
Listen to B.B. King's 'Lucille' below to hear the full story.
In 2005, for B.B. King's 80th birthday, Gibson made a special run of 80 Gibson Lucilles, referred to as the '80th Birthday Lucille'. The first prototype was presented to King as a birthday present. King used the guitar as his main guitar until the summer of 2009, when it was stolen from him. On September 10, 2009, Eric Dahl unknowingly purchased the stolen instrument from a pawn shop in Las Vegas. Upon researching information on the instrument, he was contacted by a Gibson Artist Relations representative, who informed Dahl of the stolen status of the guitar. This Lucille was returned to King in late November 2009, who was happy to receive his 80th birthday present back.
N. John Lennon -  1965 Epiphone Casino
John Lennon's Epiphone Casino made a bigger impact on the imaginations of Beatle fans than any of the several other guitars he played during his career, and became an iconic instrument in the process. The fact is, though, that this guitar is revered in two entirely different incarnations: many love it in its original state as a vintage sunburst 1965 Epiphone Casino, while others admire its "Revolution-era" appearance from around 1968, after Lennon stripped it and altered some of its hardware.
John Lennon and George Harrison both acquired 1965 Epiphone Casinos to match the guitar that Paul McCartney had bought before them.
You can see both versions of the guitar in the videos below
O. Brian May - 'Red Special'
One of the most iconic guitars in the history of rock music is Brian May's 'Red Special' also refered to as 'The Fireplace' or 'The Old Lady'.
Custom-built by May and his father in 1963 over a period of two years it is a guitar that would go on to define Brian's unmistakeable playing style and sound. The name Red Special came from the reddish-brown colour the guitar attained after being stained and painted with numerous layers of Rustins' plastic coating.
Most of the wood came from an 18th century fireplace mantel that a friend of the family was about to throw away. The neck was hand-shaped into the desired form; this was difficult because of the age and quality of the wood. According to May, there are two wormholes in the neck of the guitar.
The neck was finished with a 24 fret oak fingerboard. Each of the position inlays was hand shaped from a mother-of-pearl button. May decided to position them in a personal way: two dots at 7th and 19th fret and three at 12th and 24th.
Originally the guitar had a built in distortion circuit, adapted from a mid-1960s Vox distortion effects unit. The switch for this was in front of the phase switches. May soon discovered that he preferred the sound of a Vox AC30 distorting at full power, so the circuit was removed. The switch hole is now covered by a mother-of-pearl star inlay, but was originally covered by insulation tape.
In this video Brian talks about building the guitar with his father and his desire to built an instrument that would feedback and communicate with the moving air.
P. Steve Morse - Signature Musicman "n°1"
Steve Morse was our cover star in issue 9 of iGuitar Magazine. He talked extensively about his guitar and his technique that led to the concept for the design of his signature model. Read the Steve Morse Issue here.
Although throughout the 80s, Steve used a custom "frankentele" guitar, made up of a Tele body with a Strat neck and a Gibson style stop tailpiece, he changed his main axe when he was approached by Music Man Guitars and asked to help create a signature model designed to his specifications. The prototype n°1 of his Steve Morse signature guitar was built and Steve is now one of the longest endorsees of the company, using the guitar for more than 20 years. The guitar has been refretted eight times and is still the first original one.
He now has two signature models with MusicMan guitars which he also uses:
The first one is an exact replica of his n°1 guitar which features a poplar body with maple neck, rosewood fingerboard, 4 pickups (a DiMarzio Steve Morse bridge and neck model Humbuckers, and two DiMarzio single coils, a DP 117 and a custom wound Steve Morse single coil in HSSH configuration) volume and tone controls. The switching is also particular: it features a 3 way selector that changes between the bridge humbucker, the neck humbucker and the first single coil ( aligned with the Bridge Humbucker), a mini switch that adds the bridge pickup to any configuration and a third switch that adds the second, slant single coil to any configuration. This switch also allows for independent single coil selection.
The second one, the Steve Morse SM Y-2D 9 (Which we reviewed and gave away in our monthly competition as part of our Steve Morse special in issue 9 of iGuitar Magazine), is an updated version with quilted maple top same neck & body, 3 pickups (the slant single coil has been eliminated) and a 5 way super switch.
Both are available with a stop tail piece or floyd rose bridge.
The pickup are Steve's own signature humbuckers made by DiMarzio. The DP 205 Bridge model and the DP 200 Neck model. They are evenly balanced to allow playing all over the fretboard, since steve plays high notes on the neck pickup and low ones on the bridge. Dimarzio also wires a custom wound single coil pickup for Music Man to use into the SM signture model.
In these videos Steve talks about his sound and walks you through the 11 different pickups configurations available to him to help create the wealth of sounds and tones that he uses.
Q. Eddie Van Halen - Frankenstrat
The 'Frankenstrat' also refered to as 'Frankenstein' represented Eddie's attempt to combine the sound of a classic Gibson guitar with the physical attributes of a Fender. It was originally made with an ash Stratocaster body and a maple neck which Eddie bought from Wayne Charvel who sold Boogie Body-made bodies and necks.
The body of the guitar was sold as a 'second', due to there being a knot in the wood. Eddie managed to buy it at a discount ($50) because he believed it would perform fine and intended to paint the guitar himself. The maple neck cost him $80.
Eddie originally painted the guitar black. After it was dry he put strips of masking tape on the body and then painted it white. This would create the classic version of the Frankenstrat. Due to companies selling guitars with similar finishes, he stopped playing the guitar in public, instead using the famous black and yellow "bumble bee" guitar (pictured on Van Halen II). In 1979, after being continually disappointed with the performance of the black and yellow guitar, Eddie re-taped the body of the original white and black Frankenstrat, and painted it with red Schwinn bicycle paint. As Eddie later said, "The Schwinn bicycle paint gives it pop."
Various versions and variants of the guitar have appeared on guitar shop walls throughout the years. In an attempt to mislead companies trying to capitalize on the success of Van Halen, Eddie installed a non-functional red single-coil pickup in the neck position of the guitar. To confuse imitators even further, he screwed a three-way switch into the empty middle-pickup rout in the guitar's body. Like the neck pickup, it was purely decorative, intended to do nothing but keep would-be copycats guessing.
Kramer was the first company that Eddie officially endorsed after the company built a replica Frankenstrat for him in 1983. During this period he replaced the original neck with a Kramer neck. From this point onwards Eddie began using a number of other guitars made by Kramer, Charvel, Ibanez and Fender.
In issue 10 of iGuitar Magazine we uncovered some of the mysteries of the guitar further and featured a 'lost interview' from 1978 in which Eddie delivers even more insight into his early sound and how the guitar was built. Read it here
R. Eric Clapton - 'The Fool' 1964 Gibson SG
A number of different stories and rumours surround the origins of this famous Gibson SG and as such a definitive history of the guitar has never been proven. It is widely believed that the guitar originally belonged to George Harrison before it was given to Eric Clapton after his Les Paul Standard had been stolen. The riff from The Beatles 'Daytripper' is thought to have been created and recorded on a Gibson SG so it's not impossible that this could have been the instrument responsible.
What is known for sure is that the 1960's psychedelic custom paint job was done by The Fool, a Dutch design team and sometimes band (recording one album), the noted members/ artists of which were Simon Posthuma and Marijke Koger.
The pair had designed clothes and album covers for a number of artists in the 60's, including Procol Harum and the Move, but they are primarily known for, and made their name with, the work they did for the Beatles. Hence the rumours that Harrison was the one who commissioned the paint job in the first place.
Clapton was so impressed by what they had created for the Beatles (Posthuma and Koger were responsible for John Lennon's piano used in the 'I Am The Walrus' video, one of his acoustic guitars and the mural that featured on the exterior wall of the Beatles' Apple Boutique) that early in 1967 he commissioned them to paint some instruments, including a Fender bass for Jack Bruce, just prior to the first Cream tour of the U.S.A.
This was the same time-frame that saw Clapton using the 1964 SG Standard and he probably had that specific guitar painted as part of the Cream commission.
Whatever the origins, its iconic status truly started in those early months of 1967, as witnessed by many U.S. fans including one particular eighteen year old  just starting out on his own musical career…
Todd Rundgren was part of the audience that saw Cream make their American debut on March 25th 1967 at the RKO Theater in New York.
He was reportedly as taken by Clapton's guitar as he was by the performance of the British power trio.

The Fool guitar became Clapton's main weapon of choice for nearly two years until the band broke up in November 1968. It featured prominently on Cream's classic album Disraeli Gears and was also used on the band's later records Wheels of Fire and Goodbye.
Its live outings certainly didn't start and end with that 1967 U.S. tour - it can be heard on both Live Cream and Live Cream Volume II, released a few years after the band's demise. It also traditionally featured on 'Crossroads.'

In December 1968 Eric Clapton loaned the guitar to singer Jackie Lomax, an Apple label mate of the Beatles. Clapton had also played on the sessions for Lomax's album 'Is This What You Want?' produced by George Harrison.
A rumour from around this time claims Clapton was actually going to return the guitar to Harrison (which makes sense if Harrison was indeed the original owner), only for Lomax to ask if he could borrow it (from Clapton or Harrison).

What the loan arrangement was supposed to be regarding this historic guitar has long since been forgotten, but what is known is the guitar remained in Lomax's possession for four years. There are publicity shots and photos from 1968 featuring Lomax with the guitar, now sporting two non-original gold volume control knobs.
In 1971, while in Woodstock, New York, Lomax and Todd Rundgren met at a session and became friends. Rundgren was astonished when he learned that Lomax owned the very same guitar that had made such an impression on him when he'd seen Clapton perform with Cream back in 1967.
Rundgren clearly mentioned that first sighting of the guitar to Lomax because a year later, in 1972, Lomax offered to sell him the guitar for $500.
Lomax's only caveat was that he had the option to buy the guitar back, but nothing was ever heard again from Lomax in regard to this request.
There are other versions of this story that say Rundgren actually got the guitar from a Pawn Shop, the guitar having been deposited there by Lomax.

When Rundgren acquired it however, the guitar was in a bad state of repair and he had it restored. The body was sealed, headstock replaced and paint retouched.
A fixed stop tailpiece was installed along with a Tune-o-matic bridge, strap locks and new knobs. As far as can be ascertained, none of the original electronics, wiring or pickups were ever touched.
Todd also gave the guitar a name, 'Sunny,' as a nod towards the instrument's appearance on the classic 'Sunshine of Your Love' from Disraeli Gears.

The Fool SG became a featured instrument in the live shows of Todd Rundgren and his band Utopia for some five years and is thought to have been used on a number of his studio recordings around this period.
Although Rundgren retired the Fool guitar from live appearances later in the 1970s, he still kept it around his studio and in late 1980 the famous guitar reappeared for Utopia's Deface the Music tour and their spring 1981 shows.
At some point after that tour he again had the paint touched up and had the body re-sealed to prevent any more paint deterioration.
Although he was seen performing with a Fool guitar throughout the rest of the 80's, there's every chance it wasn't the Fool SG as it's believed he had a number of copies made.

Whatever Fool guitar was being used by this period, the original was officially retired in 1995 when it was put in storage.
Five years later Rundgren decided to auction the guitar through Sotheby's New York, with the guitar expected to go for hundreds of thousands of dollars and some estimates putting the value at $500,000.
But, strange as it may seem, Sotheby's managed to poorly advertise and promote the silent Internet auction and a private bid got the guitar for $150,000 (some accounts state $120,000).

After a twenty-eight year ownership Rundgren had finally parted with the famous instrument. But he was so aggrieved with Sotheby's handling of the auction and subsequent sale he allegedly sued Sotheby's, reaching an undisclosed settlement.
Taken from Ross Muir's Story of 'The Fool' read it here.
S. Neil Young - 'Old Black' Gibson Les Paul
Neil Young's Old Black started life as a 1953 Gibson Les Paul Goldtop. When the Gibson Les Paul models first went into production in 1952 that was the only finish available and P-90 single coil pickups were standard.
Young acquired Old Black in 1968 through a trade with one-time Buffalo Springfield collaborator Jim Messina, who received one of Young's orange Gretsch guitars (Gretsch 6120 Chet Atkins) in return. How the guitar came to have it's distinctive black spray paint job is something of a mystery although it is thought to have happened after the guitar was left at a guitar repair store.
In April, 1969 when the guitar was still new(ish), it was pictured with Young at the Troubadour club in LA during Crazy Horse's opening week of shows.
At that time The instrument was already a beautiful gloss black with an old punch-print tape strip above the pickups that read: "It ain't easy bein' a fuckin' indian!". The headstock was also nicely bound with crème binding and, even then, sported the Gibson crown inlay.
There has always been speculation about the year of "Old Black"'s neck. It has a partially painted-over pearloid inlay on its headstock that appears to be a "wheat stack" rather than split trapezoid style. The "wheat stack" inlay was applied to Gibson necks made between 1961 and '68, well past "Old Black"'s vintage. Of course, Old Black has seen considerable wear and tear after decades of playing and touring and now has most of the black paint removed from the mahogany neck. A white tape pinstripe extends down the back of the guitar neck but it has been pulled off from the body, resulting in the removal of a jagged strip of body wood down the back. An additional round aluminum access plate is present underneath the bridge in order to adjust the intonation of the guitar.
The original bridge pickup was replaced by a Gretsch Dynasonic single-coil pickup and eventually a mini-humbucker pickup from a Gibson Firebird guitar replaced the Dynasonic. The neck pickup has always been the original P-90 pickup, but it is covered by a metal P-90 cover, most likely from a Gibson ES-330. 
Perhaps the guitar's most unusual modification is the toggle switch mounted on its front between the volume and tone speed dials. It is reportedly a bypass switch that lets "Old Black"'s signal go straight into one of the small, late '50s amps that Young sets on "stun" to create his big, bad rumble, dodging the potentiometers and capacitors within the guitar.
Most of Young's electric guitar parts have been recorded on Old Black and it has rarely been seen without Neil Young's famous peace symbol and dove guitar strap, which has also seen modifications over the years-most notably, its attachment to a Levy's wide guitar strap.
'Old Black' is one of the most loved and used guitars in rock n' roll existence and one of the few on this list still making albums and touring to this day. It makes you wonder what it's name would have been if it had never had that spray job back in 1968. 'Old Gold' anyone?
T. George Harrison - Gibson Les Paul 'Lucy'
During the 60's it seems a lot of guitars changed hands between famous musician friends and 'Lucy', the Gibson Les Paul is no different. Previously owned by Eric Clapton, John Sebastian and Rick Derringer it eventually ended up in George's possession after Clapton decided to use 'The Fool' as his main instrument. After our search deeper into the history of 'Lucy' we found this brilliant article by Jerry Mculley about the story of Harrison's well travelled Crimson Les Paul.
During the height of mid-'60s Beatlemania, the guitars most frequently associated with George Harrison on tour and TV/film appearances were the Gretsch Country Gentleman, Rickenbacker 360/12 and the Epiphone Casino that both he and John Lennon wielded on their final 1966 world tour and sessions for the epochal Sgt. Pepper's album. Harrison had also played a cherry-finish '64 SG Standard during the Rubber Soul/Revolver  era, an instrument that shows up in promo films for "Paperback Writer," "Rain" and "Lady Madonna."
But in August of 1968, Eric Clapton gifted Harrison with a 1957 Les Paul Standard, now factory refinished to cherry red, that already had an impressive rock history - and would soon reach even greater heights. Harrison immediately dubbed his new crimson Les Paul 'Lucy' in honor of red-headed comedy icon Lucille Ball, then quickly put it to work recording the White Album  outtake, "Not Guilty." Within weeks George also appeared playing it in the Beatles promotional film for the single "Revolution," which initially aired on David Frost's U.K. TV show, and later on the Smothers Brothers Comedy Hour  stateside.
In September, it would perform what remains one of the Beatles', and rock's, most iconic solos - but not in the hands of George Harrison. After the initial session for "While My Guitar Gently Weeps," Harrison admitted in a 1974Crawdaddy interview, that because of ongoing tensions with main songwriters Lennon and McCartney he "went home really disappointed because I knew the song was good."
"The next day I brought Eric Clapton with me [to the studio]. He was really nervous. I was saying, 'Just come and play on the session, then I can sing and play acoustic guitar.' Because what happened when Eric was there on that day … it helped, because the others would have to control themselves a bit more. Eric was nervous saying, 'No, what will they say?' And I was saying, 'F**k 'em, that's my song!'"
Harrison also admitted he lacked confidence in his own guitar work during the era, explaining that "I'd played sitar for three years. And I'd just listened to classical Indian music and practiced sitar - except for when we played dates, studio dates - and then I'd get the guitar out and just play, you know, learn a part for the record. But I'd really lost a lot of interest in the guitar."
"[Eric and I] used to hang out such a lot at that period, and Eric gave me a fantastic Les Paul guitar, which is the one he plays on ["While My Guitar Gently Weeps"]. So it worked out well."
Harrison used 'Lucy' frequently during the final studio dates for the White Album and the subsequent, haphazard Get Back/Let It Be recordings that followed in January, 1969, then played it extensively that summer on the Beatles swan song, Abbey Road. That's 'Lucy' wailing on the middle of "The End"'s trio of brief guitar solos. George also took the crimson Les Paul on the road briefly with Bonnie and Delaney Bramlett later that year.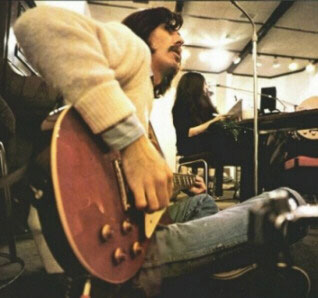 As the legend goes, 'Lucy' was originally a late-'50s Les Paul Goldtop that had made its way to the Lovin' Spoonful's John Sebastian, and then McCoys' mainstay Rick Derringer, who'd sent it off to Gibson's Kalamazoo factory for refinishing.
Decades later, Rick would recall "I loved playing it, but my dad - who's always loved a guitar looking real good - used to comment on how it was kind of beat up. It was a very, very used guitar, even when I got it. But it played great. So I figured that since we didn't live far from Gibson's factory in Kalamazoo, the next time the group went there I'd give it to Gibson and have it refinished. I had it done at the factory in the SG-style clear red finish that was popular at the time."
Yet Derringer noted that the instrument "just didn't feel the same … it had changed into an altogether different guitar" after refinishing. So Rick traded it for a sunburst finish Les Paul at Dan Armstrong's guitar shop in Manhattan, which is where Eric Clapton purchased it not long after.
But memories - especially those of veteran, hard-living rock stars - can be notoriously cloudy, while legends - particularly those surrounding the Beatles - tend to take on a life of their own, regardless of evidence to the contrary. Which is just what we encountered trying to track down photos documenting Harrison's cherry-refinished Les Paul Standard in its original state. Which led us to wonder: Was 'Lucy' really a Goldtop in her first incarnation? Several pieces of circumstantial and visual evidence cast some doubts on the instrument's generally accepted heritage.
The serial number on the rear of the instrument's headstock - #7-8789 - does indeed correspond with a Goldtop that was shipped from Gibson's Kalamazoo factory in December 1957. But, as noted in Anthony Babiuk's and Tony Bacon's exhaustive reference book Beatles Gear, experts who've examined the instrument note that the style and typeface of 'Lucy''s serial number don't match other instruments of its vintage.
While John Sebastian did indeed own a Goldtop, and is pictured playing it on the cover of his well-received Real Live John Sebastian concert album, that record was released in 1971, years after he had supposedly given the ax up to Derringer. Yet during the Lovin' Spoonful's '60s prime, Sebastian frequently played what appears to be a similar vintage Les Paul Standard with a sunburst finish. It shows up on the cover of the band's "Summer In the City" single, some concert shots, and a 1966 television clip of their biggest hit, "Daydream."
Rick Derringer was most frequently pictured playing an ES series during the McCoys' "Hang On Sloopy" heyday. But a grainy, amateur snapshot taken at a 1967 dance featuring the band shows Derringer playing what appears to be a Les Paul Standard that appears very similar to the one Sebastian was documented using with the Lovin' Spoonful the previous year - or is it the sunburst model Rick says he acquired from Dan Armstrong's shop?
Perhaps only 'Lucy' knows for sure - and she's not talking.
The fabled red Les Paul was stolen from under the bed of George Harrison's Beverly Hills home during a burglary in the early '70s. Eventually it ended up at the Guitar Center in Hollywood, where a musician from Mexico purchased the instrument for $650. After a complex set of negotiations involving a third party and a trip to Mexico, 'Lucy' was eventually returned to Harrison in exchange for a '58 sunburst Les Paul and a Precision bass.
"['Lucy'] got kidnapped and taken to Guadalajara," George would later muse, "and I had to buy this Mexican guy a Les Paul to get it back." His beloved 'Lucy' Les Paul would remain a prized part of George Harrison's collection until his death in 2001.
Article taken from Gibson.com
U. Paul Kossoff -  1959 Gibson Les Paul
Although the guitarist pictured playing this 1959 Les Paul above is of course blues-maestro Joe Bonamassa, the guitar was originally owned and made famous by Free's late great Paul Kossoff.
Kossoff owned a number of Les Pauls but this particular one now belongs to a friend of Pauls. He received the guitar from Paul's father after he passed away and was asked never to sell it without first consulting the Kossoff family.
When Joe Bonamassa was in Newcastle, UK as part of the Black Country Communion tour, the guitar was loaned to him by the owner to use for the show. Joe has always been very vocal about Kossoff's influence on his playing and has since spoken openly about how it felt to play that guitar. In fact he posted the video below along with this message on a Les Paul forum
"Here ya go guys and gals.... One of the thrills of my life.. !! Got to use Koss's 59 Burst the other day for 9 songs on the gig.. "
To see more photos of the guitar, check out Geoff Oldfield's Flickr page here
V. Marc Bolan - Gibson Les Paul Standard
Marc Bolan's main guitar was this Les Paul Standard (fitted with a Les Paul Custom replacement neck after the original neck was broken) which started life as a Les Paul Goldtop and was refinished in a translucent orange to resemble one of Eddie Cochran's Gretsch guitars.
Gibson have since released a Custom Marc Bolan Les Paul based on this model which come with the Custom neck and ebony fretboard and the Burstbucker pickups (the neck pickup is zebra, the bridge pickup black).
For more info visit the Gibson site here
W. Peter Green - 1959 Les Paul Standard
Last but by no means least, one of the most famous and highly collectable vintage guitars of all time, the infamous Peter Green Les Paul. Most Blues fans will know that as well as being revered for his amazing tone and unmistakeable vibrato, B.B. King once remarked "He has the sweetest tone I ever heard. He's the only one who gave me the cold sweats.", over the years Peter's Les Paul has built up a similar legend in guitar folklore. Now in the hands of a private collector, it made it's journey through Peter Greens hands and into the arms of Gary Moore who put it to good use on a number of his albums and live shows.
Earlier on in his career, Peter Green played a  Harmony Meteor, a cheap hollow-body guitar, but quickly started playing a  Gibson Les Paul with  The Bluesbreakers after he replaced Eric Clapton in the band. Green's guitar was often referred to as his "magic guitar". "I never had a magic one. Mine wasn't magic...It just barely worked" said Green in 2000. "I stumbled across one when I was looking for something more powerful than my Harmony Meteor. I went into Selmer's in Charing Cross Road [central London] and tried one. It was only £110 and it sounded lovely and the color was really good. But the neck was like a tree trunk… It was very different from Eric's Les Paul, which was slim with a very fast action."
In part, his unique tone derived from a modification to the neck  pickup which was reversed and rewired, a modification made after 1967. For anyone looking to modify their guitar in the same way, we found a link to a nice blog here on how to perform the tone mod in detailed steps 
http://www.geetarz.org/axes/green.htm
It was in the early 70's when Green passed the guitar over to Gary Moore. Peter was suffering from mental health problems and would put his guitar down for the best part of 8 years. At the time, the Irishman was a friend and close neighbor of Green's in London. Green initially tried to give the Les Paul to him on the understanding that he could ask for it back when he was well enough to play again but Moore insisted on paying the £110 that it originally cost and Peter Green never did ask for it to be returned.
Once in the hands of Gary Moore, the guitar went on to be used on a number of recordings, most notably the 'Blues For Greeny' album of Fleetwood Mac covers dedicated to the orginal owner. Green used it extensively until he sold the guitar in 2006.
Gary Moore explained why he parted ways with the iconic instrument:
"It's a long story. The instrument itself was a very special instrument, obviously. But it got to the point where I couldn't take it anywhere. I didn't want to sell it. I had to sell it for various reasons because I injured my hand a few years ago and the insurance didn't pay up, and I had to cover the tour costs for canceled shows with my own money, and I didn't get paid for any of the shows, obviously, or for anything. I ended up with debt. So it was kind of a financial thing, really, and that was the quickest way to do anything about it. So I never wanted to sell it. I mean, why would I? I kept the other '59 Les Paul and I sold that one. That guitar was played by Jimi Hendrix, Jeff Beck, Rory Gallagher played it, and I've played it. It was a very special instrument. Les Pauls are all so different. That one is a big old battle axe. Peter Green never really liked that guitar because the neck was too big. He wanted me to have it because he said he wanted it to go to a good home."