Kirk Fletcher: Blues Excellence
Widely considered to be one of the best blues guitarists in the world today, Kirk Fletcher's unique approach to rhythm & blues guitar playing is equal parts refreshingly modern and completely authentic. With the release of his sixth album 'My Blues Pathway,' (out now via Cleopatra Records) Nick Jennison speaks with the and award-winning American blues extraordinaire.
'My Blues Pathway' is exactly what the title implies. It's a reflection on a 30+ year love affair with the blues from one of the best blues guitar players in the game - Kirk Fletcher. Recounting the story of how the album came to be, Fletcher muses: "…Man, what's the most important thing to me and, all of this - my musical history and everything - what does it mean? What does it mean to me at this point? I'm like: man, it's time to do a blues record!"
"So I came LA [and I] I recorded with a bunch of friends of mine. We recorded this record, and it was really like my journey since my first record 'I'm here, and I'm gone' til now, and my pathway lead me to playing more traditional blues and soul music."
"Everything was done [live] with the band at my friend Josh Smith's studio in LA." Kirk and Josh's beautiful bromance is well documented, so Smith's studio was an obvious choice. "We're just buddies! I went to his studio, and I just did whatever I want - it's like home!… We will from time to time give suggestions to each other. It's like your brother, y'know? I just feel really comfortable [recording with Josh]. I'm really in my comfort zone playing this type of music, so he just lets me do what I want!"
While his groove, phrasing and taste are unquestionably sublime, a huge part of what makes Fletcher so mesmerising as a player is his glorious tone and touch. "When I was young I didn't think about that. My older brother played guitar and he had a beautiful touch. He would play pretty light and just have a big, fat, warm *clean* tone in church…" But what really solidified Kirk's touch was seeing Robben Ford up close and personal at a Blue Line rehearsal. "Robben was there with his guitar [and his] Dumble barely turned on… no effects, no nothing, and it was the most ginormous tone I ever heard!… and I go 'woah, I have some work to do'… and then I saw him play a Stratocaster through a Deluxe Reverb and it sounded exactly the same - huge." "Robben Ford and guys like that are musicians, not just guitar players… it's so much more about Downbeat magazine than it is Guitar World magazine in their mind."
"I think that when you play one guitar starting out… you have to draw out all these different sounds and make it sound like different things, so you kinda adjust your pick attack and everything to your ears and what you wanna hear. So when I play a Strat a lot of people say 'you have a fatter sound than a lot of other players', and I think it might just be that my pick attack is a little softer. I would watch guys like Robben Ford and Larry Carlton… their pick attack for the most part would be kinda soft, and they would get this big gigantic tone. I don't really think Stevie [Ray Vaughan] played with his right hand *that* hard…"
In the thirty years that have passed since his days cutting his teeth on the club circuit, Fletcher has seen the way the blues has changed. "In some ways - not to be negative - but I feel like not all of the change has been good… The thing is, with a lot of blues and a lot of [the] music we all idolise… there was songwriting! […] Muddy waters saying like 'I just wanna make love to you' and just being direct… and the instruments playing together, and this whole *thing* is just so amazing, and that's the reason why it's lasted all of this time. So I feel that sometimes maybe songwriting [and] arrangements and people playing together in this cohesive *thing* are maybe put on the back burner for more guitar and things that we all love so much."
A theme that runs throughout the album is Fletcher's deep love and respect for the lineage of blues music. Kirk is a true student of the art form with an encyclopaedic knowledge of blues history. But on the subject of his own legacy, he's characteristically modest. "I didn't get into music thinking about anything other than just trying to make music and have fun: have fun with the guitar, and play, and enjoy it, and make people happy… At the end of the day if somebody was like 'man that guy was one soulful guy', that's all I could ever ask for! Just having that integrity and having like a blues excellence."
"Muddy Waters, BB King, Bobby Bland, Howlin' Wolf - the list goes on and on!…Trying to keep with that level of greatness and leaving a legacy like they left… Some blues artists, they passed away with very little money and things like that, but their legacy is so huge."
'My Blues Pathway' is available worldwide via Cleopatra Records.
'My Blues Pathway' by Kirk Fletcher Tracklist: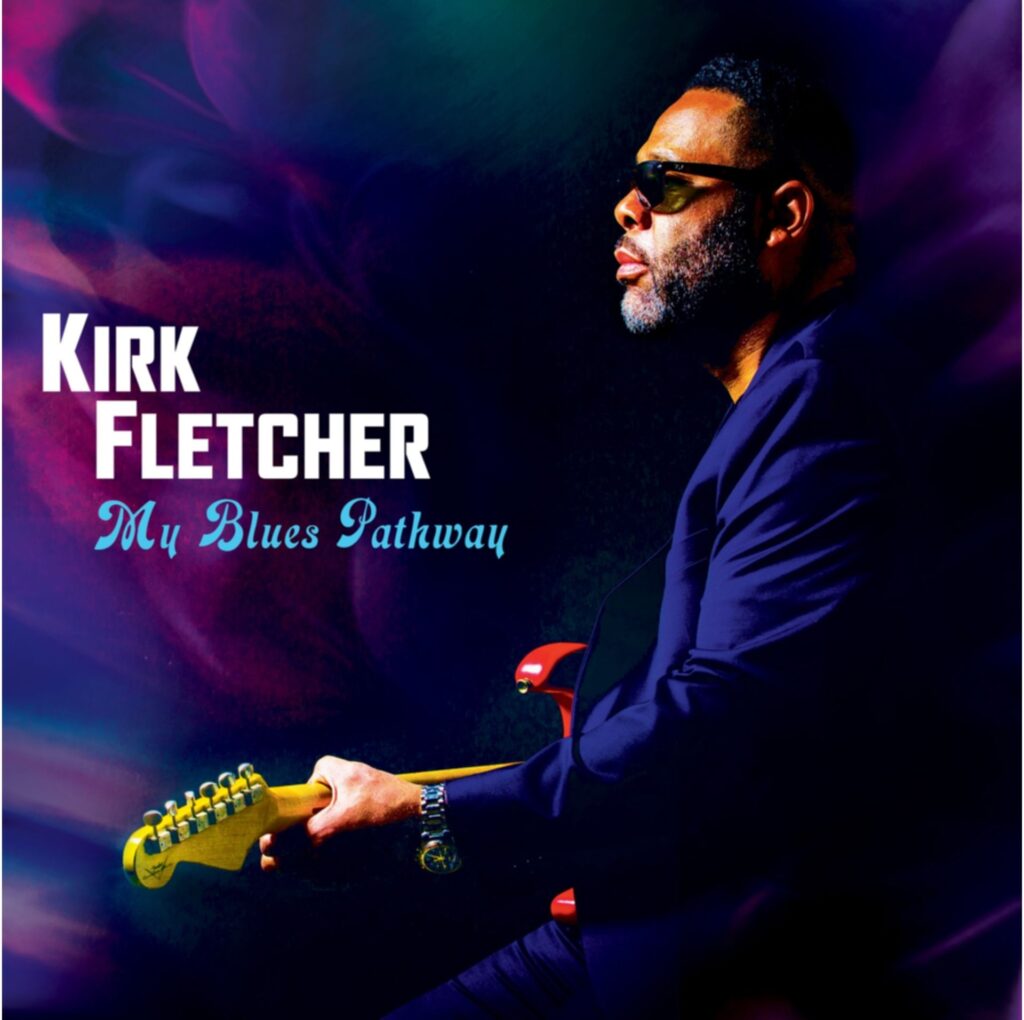 1. No Cure For The Downhearted
2. No Place To Go
3. Love Is More Than A Word
4. Struggle For Grace
5. Rather Fight Than Switch
6. Heart So Heavy
7. Fattening Frogs For Snakes
8. Place In This World Somewhere
9. D Is For Denny
10. Life Gave Me A Dirty Deal
For more information on
Kirk Fletcher
, please visit:
kirkfletcherband.com