For more than 25 years, Chris Shiflett has blurred the lines between genre and generation, balancing his full-band projects with a thriving solo career. The Punk veteran, Rock & Roll Hall of Fame inductee, Americana and rock songwriter and modern-day guitar hero is back with his latest album, 'Lost At Sea' (out 20th October 2023 via Snakefarm Records). Guitar Interactive editor Jonathan Graham speaks exclusively with Shiftey about the new release and so much more in this issue's cover feature.
Named "Americana's biggest rockstar" by Rolling Stone, Shiflett has played a crucial role in shaping the sound and the scope of modern-day rock music as a longtime member of the Foo Fighters.
He joined the band in 1999, after kicking off his career playing guitar for seminal pop-punk groups like No Use For A Name and Me First and the Gimme Gimmes. Foo Fighters quickly made use not only of his instrumental chops, but his songwriting capabilities, too, with Shiflett contributing to era-defining hits like "All My Life", "Times Like These" and "Best of You."
While flying the flag for modern rock 'n' roll, he also made time to pursue projects outside of the band. Groups like Jackson United and Chris Shiflett and the Dead Peasants found him in the driver's seat, establishing his credentials as a frontman, while the long-running Americana podcast Walking the Floor saw him shining a light on his heroes and contemporaries, its 200-plus episodes highlighting the storytellers, songwriters and road warriors of contemporary roots music.
Two critically-acclaimed solo albums, 2017's 'West Coast Town' and 2019's 'Hard Lessons,' marked Shiflett's entry into the Americana world, mixing classic Bakersfield influences with greasy guitar riffs, Marshall amplifiers and country rock rasp.
Shifty turns a new page now with 'Lost At Sea,' a solo record that builds a musical bridge between Nashville — where Shiflett has become a frequent visitor, performing on the Grand Ole Opry one minute and collaborating with Music City tastemakers like The Cadillac Three frontman Jaren Johnston and legendary producer Dave Cobb the next — and his native California.
Caught halfway between the honky-tonk saloon and the punk rock dive bar, 'Lost At Sea' is both eclectic and electric, making room for alt-country crunch, guitar-driven grit and sharp songwriting. Tying that mix together is Shiflett himself, a musical Renaissance Man whose influences are every bit as wide-ranging as his resumé.
'Lost At Sea,' meanwhile, finds him bridging the distance between West Coast Town's honky tonk homage and Hard Lessons' overdriven crunch. Shiflett recorded the majority of the album in Nashville, working with producer/collaborator Johnston (songwriter behind nearly a dozen Number 1 country hits) plus a small cast of Americana all-stars – the likes of fellow guitar-slingers Charlie Worsham, Tom Bukovac and Nathan Keeterle, all of whom laced the record with fiery fretwork.
He also teamed up with a number of co-writers, partnering with Kendell Marvel, Cody Jinks and others to fill 'Lost At Sea' with storylines that pack as hefty a punch as the music itself. "Black Top White Lines", a riff-heavy rocker that barrels forward at highway speed, was written with Johnston and Brothers Osborne guitarist John Osborne, while "Carrie Midnight Texas Queen" — a nostalgic track whose shuffling swagger conjures up images of boot-scuffed Austin dancehalls — was penned alongside Nick Autry and Cary Barlowe.
"We wrote a lot of these songs during the lockdown," recalls Shiflett, who spent much of the Covid-19 pandemic at home in Southern California. "Then I began making trips to Nashville to work with Jaren. He and I have a lot of overlap, in terms of the music we like. We made a guitar-centric record that encapsulates everything I've been listening to over the years, from the most country songs I've ever recorded to '90s punk, rock 'n' roll, and even songs that sound like a California version of The Clash!"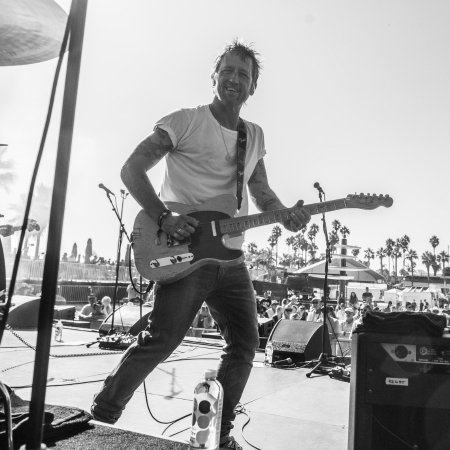 'Lost At Sea' showcases the full range of Shiflett's abilities. There are harmonised guitar solos worthy of Thin Lizzy, amplified country anthems and roots rockers steeped in Tom Petty's influence. The breakneck pace and palm-muted guitars of "Parties" salute Shiflett's early days within the Bay Area punk scene, while "Damage Control" — with its layers of reverb, pulsing percussion and Echoplex tape delay — flirts with the atmospheric dub that Lee Scratch Perry introduced.
Everything is grounded in melody. Shiflett nods to his heroes throughout, but he charts his own territory, too, whipping up a diverse sound that's distinctly his own.
A road warrior since the mid-1990s, Chris Shiflett continues to juggle multiple projects. 'Lost At Sea' is his most personal moment to date, stocked with genre-bending songs that never fail to push beyond boundaries. Call it Arena Americana. Call it California alt-country. Call it whatever you like. For Shiflett, it's just the latest stop on the road that goes on forever.
Chris Shiflett will release new album 'Lost At Sea' on 20th October 2023 via Snakefarm Records.
Chris Shiflett 'Lost At Sea' Tracklist
'Dead And Gone'
'Overboard'
'Black Top White Lines'
'Damage Control'
'Weigh You Down'
'Burn The House Down'
'Where'd Everybody Go?'
'I Don't Trust My Memories Anymore'
'Carrie Midnight Texas Queen'
'Parties'
For more information on Chris Shiflett, including pre-sale details for 'Lost At Sea' and tour dates, please visit www.chrisshiflettmusic.com